Beetroot ( چقندر )
چقندر بچوں کی صحت کیلئے کیوں ضروری ہے؟
صحت مند، بیماریوں سے پاک بچپن ہی ایک مضبوط نوجوان کی بنیاد ہوتا ہے، بچوں میں سب سے عام بیماری 'اینیمیا' یعنی کہ خون کی کمی دور کرنے کے لیے قدرتی و بے شمار اجزاء سے بھرپور چقندر بے حد فائدہ مند ثابت ہوتا ہے ۔
چقندر اپنے ترش اور نمکین ذائقے کے سبب اکثر نا پسند کیا جاتا ہے، چقندر کا زیادہ تر استعمال سالاد میں کیا جاتا ہے جبکہ اس کا جوس پینے میں بے حد آسان اور فوائد میں حیران کُن مثبت نتائج کا حامل ثابت ہوتا ہے۔
ماہرینِ اطفال کے مطابق چقندر نا صرف بچوں بلکہ گھر کے ہر فرد کے لیے بہترین غذا ہے، اس کا استعمال ہر عمر کا فرد بلا جھجک کر سکتا ہے، کیمیائی ادویات سے بچوں کو بچانے اور خون کی کمی پوری کرنے کے لیے چقندر بہترین علاج ہے، چقندر میں پوٹاشیم ، کیلشیم، میگنیشیم اور آئرن بھر پور مقدار میں پایا جاتا ہے۔
ماہرین اطفال کے مطابق بچے آئرن کی کمی کے سبب مٹی کھانے لگ جاتے ہیں، آئرن کی کمی کی ایک اور علامت یہ بھی ہے کہ بچے کو بھوک نہیں لگتی ، لہٰذا بچوں کی مٹی کھانے کی عادت چھڑانے اور بھوک بڑھانے کے لیے چقندر کا استعال کروایا جا سکتا ہے ۔
بچوں کو چقندر کھلانے کے بجائے اس کا جوس نکال کر پلایا جا سکتا ہے، چقندر کا جوس بڑوں میں ہائی بلڈ پریشر کو متوازن رکھتا ہے، قلب کی صحت بہتر بناتا ہے اور شریانوں کی بندش کی شکایت کا خاتمہ بھی کرتا ہے۔
ماہرین کے مطابق ناصرف بچوں بلکہ بڑوں میں بھی خون کی کمی کے لیے چقندر کا استعمال لازمی ہے۔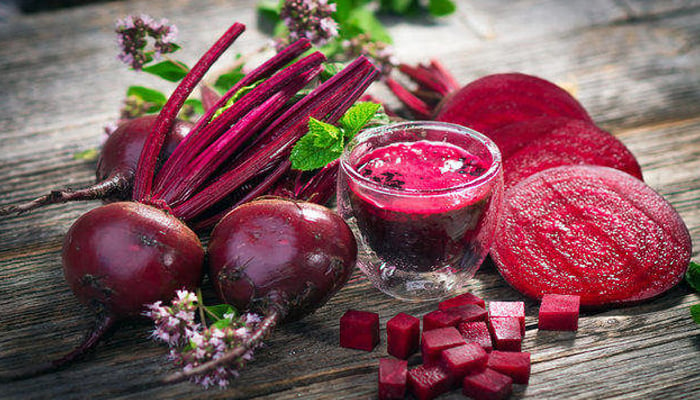 Beetroot ( چقندر )
A healthy, disease-free childhood is the foundation of a strong youth. The most common disease in children is anemia.
Beetroot is often disliked for its sour and salty taste. Beetroot is mostly used in salads, while its juice is extremely easy to drink and has surprisingly positive benefits.
According to pediatricians, beetroot is the best food not only for children but also for every member of the household. People of all ages can use it without hesitation. Beetroot is the best treatment to protect children from chemical drugs and to cure anemia. Beetroot is rich in potassium, calcium, magnesium, and iron.
According to pediatricians, children start eating mud due to iron deficiency. Another symptom of iron deficiency is that the child does not feel hungry. can go.
Beetroot juice can be extracted and fed to children instead of beetroot. Beetroot juice balances high blood pressure in adults, improves heart health, and also eliminates the complaint of arterial blockage.
Visit My Youtube Channel.