Fennel Milk ( سونف والا دودھ )
جڑی بوٹی میں شمار کی جانے والی سونف کے استعمال سے انسانی مجموعی صحت سمیت خوبصورتی پر بھی بے شمار فوائد مرتب ہوتے ہیں جبکہ اس کا استعمال اگر دودھ میں پکا کر کیا جائے تو اس کی افادیت اور دودھ کی غذائیت میں مزید اضافہ ہو جاتا ہے۔
سونف تقریباً ہر گھر میں موجود ہوتی ہے مگر اس کا صحیح استعمال کرنا بہت کم لوگ جانتے ہیں، سونف کو کھانوں سمیت چائے یا قہوے میں استعمال کیا جاتا ہے، دونوں طرح سے ہی اس کا استعمال سانسوں کو تازہ دم اور ہاضمے کی کارکردگی کو بہتر بناتا ہے مگر اس کا دودھ کے ساتھ استعمال کرنے کے نتیجے میں صحت پر بے شمار مثبت اثرات مرتب ہوتے ہیں، سونف والا دودھ میٹا بالزم کا نظام بہتر اور جسم سے مضر صحت مواد کا اخراج ممکن بنا کر مجموعی صحت پر اثر انداز ہوتا ہے۔
غذائی ماہرین کے مطابق مارکیٹ میں با آسانی دستیاب سونف کا دودھ کے ساتھ استعمال کرنے سے جہاں صحت پر بے شمار مثبت اثرات آتے ہیں وہیں اِن کے استعمال سے خوبصورتی میں بھی اضافہ ہوتا ہے۔
غذائی ماہرین کی جانب سے دعویٰ کیا جاتا ہے کہ سونف اور دودھ کا استعمال معدے اور جگر کی گرمی اور تیزابیت کم کرتا ہے، جلد صاف شفاف، ایکنی، کیل، مہاسوں سے پاک بناتا ہے اور رنگت بھی نکھارتا ہے، دودھ اور سونف میں وافر مقدار میں قدرتی اجزا ہونے کے سبب اِن کے استعمال سے صحت پر کسی بھی قسم کا کوئی منفی اثر نہیں پڑتا ۔
ماہرین کا کہنا ہے کہ اگر دن میں ایک گلاس سونف والے دودھ کا استعمال کر لیا جائے تو ذہنی تناؤ میں کمی آتی ہے، بلڈ پریشر اور شوگر بھی متوازن رہتا ہے، پرسکون نیند میں اضافہ ہوتا ہے اور بے خوابی کا خاتمہ ہوتا ہے۔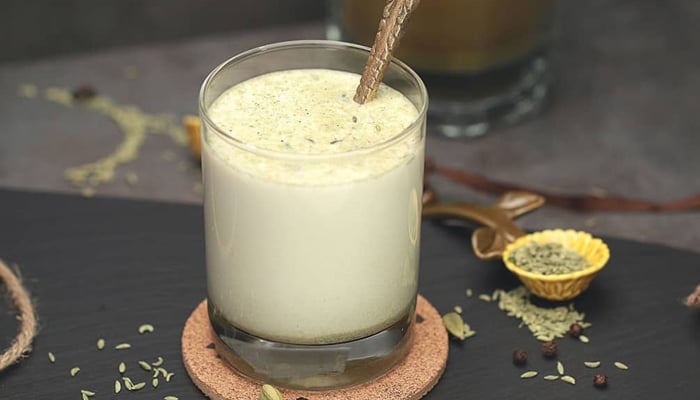 Fennel Milk ( سونف والا دودھ )
The use of fennel, which is considered as an herb, has many benefits on human overall health as well as beauty, while if it is cooked in milk, its usefulness and nutritional value of milk is further enhanced.
Fennel is present in almost every home but very few people know how to use it properly. Fennel is used in food including tea or coffee, both ways it is used to refresh the breath and improve digestion. But its use with milk has many positive effects on health. Fennel milk improves the metabolism system and affects overall health by making it possible to excrete harmful substances from the body.
According to nutritionists, using fennel, which is readily available in the market, along with milk, not only has many positive effects on health but also enhances beauty.
Nutritionists claim that the use of fennel and milk reduces the heat and acidity of the stomach and liver, makes the skin clear, acne, nails, acne-free, and also brightens the complexion, milk, and fennel are abundant. Due to their natural ingredients, their use does not have any adverse effect on health.
Experts say that if a glass of fennel milk is consumed in a day, it reduces stress, blood pressure and sugar remain balanced, restful sleep is increased and insomnia is eliminated.
Visit My Youtube Channel.