Queen of the Night ( رات کی رانی )
رات کی رانی کے صحت سے متعلق کرشماتی فوائد
رات کی رانی ایک چھوٹا سا خوشبو دار پھول ہے لیکن آپ کو یہ جان کر حیرت ہوگی کہ یہ ناصرف خوبصورت ہے بلکہ اس میں صحت کے مختلف فوائد بھی ہیں۔
اس پودے میں اینٹی آکسیڈینٹ، اینٹی سوزش اور اینٹی بیکٹیریل خصوصیات ہیں۔ یہاں ماہرین ان چھوٹے سفید پھولوں کے صحت سے متعلق کچھ فوائد بتارہے ہیں۔
رات کی رانی کے حیرت انگیز فوائد:
خشک کھانسی:
رات کی رانی کے چند پتّے لیں اور اُنہیں پیس لیں۔ اب اس کا رس نکال کر شہد کے ساتھ پانی میں ڈال کر پی لیں، ایسا کرنے سے خشک کھانسی سے نجات مل جاتی ہے۔
نزلہ زکام:
رات کی رانی کے پتّوں اور پھولوں کو پانی میں اُبالیں اور پھر اُس میں تُلسی کے چند پتّے بھی شامل کرلیں، اس کو اتنا پکائیں کہ یہ قہوہ بن جائے اور پھر اُس قہوے کو پی لیں، موسم سرما میں روزانہ یہ قہوہ پینے سے آپ کو نزلے زکام کی شکایت نہیں ہوگی۔
بخار:
3 گرام چھال اور 2 گرام پتے تلسی کے 2-3 پتوں کے ساتھ لیں۔ اسے پانی میں ابالیں اور دن میں دو بار پی لیں۔
بے چینی:
رات کی رانی کا تیل ڈپریشن، ذہنی تناؤ اور بےچینی کو دور کرنے کے لیے استعمال کیا جاتا ہے۔ یہ دماغ میں سیرٹونن کی سطح کو بڑھانے اور موڈ کو منظم کرنے میں مدد دیتا ہے۔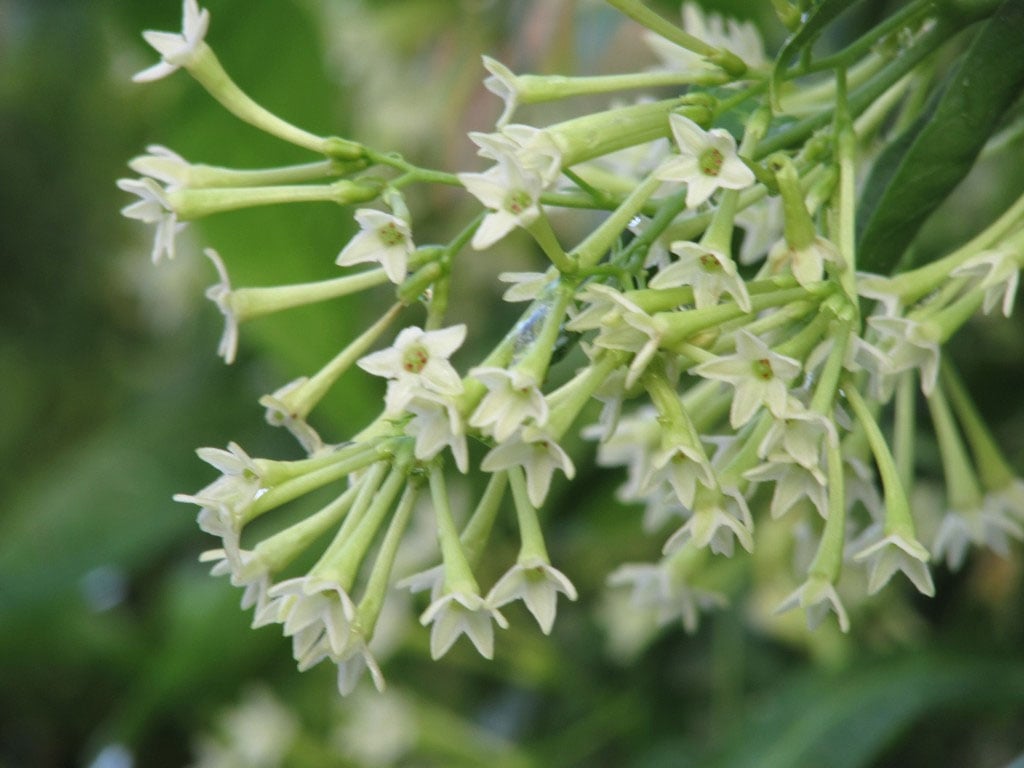 Queen of the Night ( رات کی رانی )
Miraculous health benefits of the queen of the night
The queen of the night is a small fragrant flower but you will be surprised to know that it is not only beautiful but also has various health benefits.
This plant has antioxidant, anti-inflammatory, and antibacterial properties. Here are some of the health benefits of these little white flowers.
The Amazing Benefits of the Queen of the Night:
Dry cough:
Take a few leaves of the queen of the night and grind them. Now extract its juice and put it in water with honey and drink it. Doing so gets rid of dry cough.
Cold & Flue:
Boil the leaves and flowers of the queen of the night in water and then add some basil leaves in it, cook it till it becomes coffee, and then drink that coffee. By drinking this coffee daily in winter your Colds will not be a complaint.
Fever:
Take 3 grams bark and 2 grams leaves with 2-3 basil leaves. Boil it in water and drink it twice a day.
Anxiety:
Nightshade oil is used to treat depression, stress, and anxiety. It helps increase serotonin levels in the brain and regulates mood.
Visit My Youtube Channel.