Talbeena (Barley Porridge) ( تلبینہ( جو کا دلیہ) )
تلبینہ بنانے کا طریقہ:
تلبینہ بنانے کے لئے آپ کو جو کا دیسی دلیہ چاہئے۔ یعنی جو کا دیسی طریقے سے کُوٹا ہوا دلیہ جو تمام جنرل اسٹورز اور کریانہ کی دکانوں اور بڑے ڈپارٹمنٹل اسٹورز پر بھی مل جاتا ہے۔ اس میں آپ کو فوجی یا کسی دوسری کمپنی کا پراسیسڈ دلیہ ہرگز نہیں لینا ہے۔
سادہ ترین تلبینہ کے اجزاء
جو کا دلیہ 25 گرام
نمک ایک چٹکی
پانی تین کپ
تلبینہ کے بنانے میں جو کے آٹے اور جوکا ذکر ملتا ہے میرا تجربہ یہ ہے کہ جب جو کا دلیہ مشین سے بنوائیں تو اس میں کچھ مقدار آٹا بن جاتا ہے اسے دلیہ سے جدا نہ کریں بڑے شہروں میں رہنے والے بڑے سٹورز سے خالص جو کا دلیہ لیں۔اب جو کے دلئے کو ایک گھنٹے کے لئے ایک کپ پانی میں بھگو کر رکھ دیں۔ پھر اس کو ساس پین میں ڈال کر دو کپ پانی اور چٹکی بھر ڈال کر ھلکی آنچ پر پکنے دیں اور چمچے سے ھلاتے رہیں تاکہ دلیہ برتن کے پیندے سے چپک نہ جائے، دلیہ اس طرح پکانا ہے کہ دلیہ کے دانے خوب پک گل جائیں ۔
جب پیسٹ جیسا بن جائے تو اتار لیں۔ یہ دلیہ عام طور پر شام یا رات کو تیار کرکے رکھ لیا جاتا ہے۔ صبح ناشتے میں اس میں حسب ذائقہ شکر اور کچھ دودھ شامل کرکے کھالیں۔ اب باقی کے تکلفات یعنی میٹھا کرنے کے لئے شہد اور اس میں کچھ کھجوریں شامل کرنا قطعی طور پر آپشنل ہے۔
آپ جہاں بھی تلبینہ کی ریسپی دیکھیں گے تو اس میں آپ کو کھجور اور شہد شامل کرکے دودھ میں پکانے کا طریقہ ملے گا جس کو پڑھ کر 90 فیصد لوگ تلبینہ کو ناشتے میں کھانے کا ارادہ ترک کردیتے ہیں کہ اتنا جھنجھٹ کون پالے۔تلبینہ میں اصل جزو جو ہے اور وہی کھانا اصل مقصد ہے۔ تو بس اس سادہ طریقے سے جوکا دلیہ بنائیں اور استعمال کیجئے۔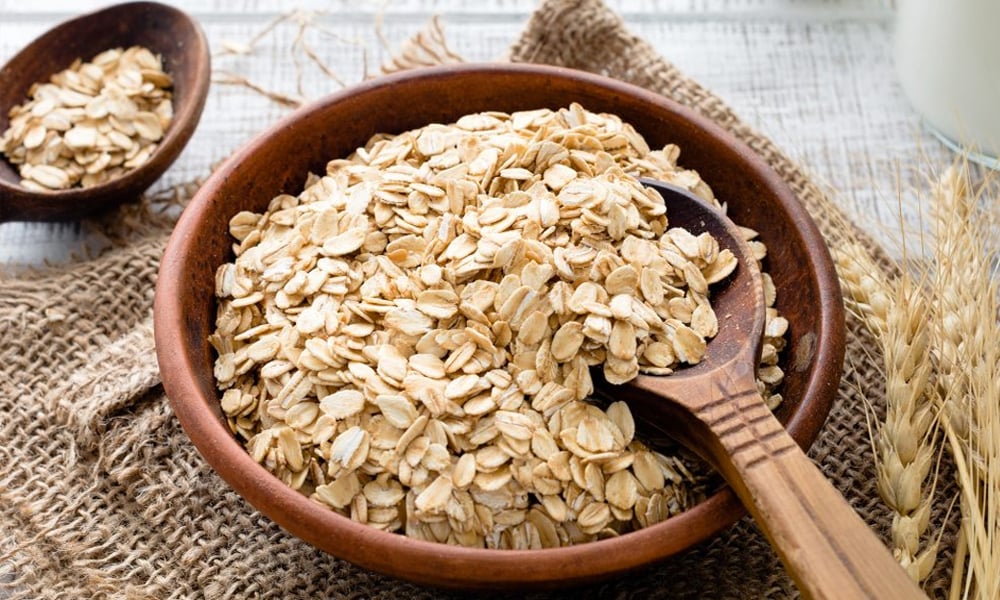 Talbeena (Barley Porridge) ( تلبینہ( جو کا دلیہ) )
Food that removes sorrow and sadness from the heart
How to make:
You need barley porridge to make talbeena. Indigenous barley porridge can be found in all general stores and grocery stores and large department stores. You do not have to take processed porridge from the military or any other company.
Ingredients of the simplest talbeena
Barley porridge 25 grams
A pinch of salt
Three cups of water
My experience is that when barley porridge is made by machine, some amount of flour is made in it. Do not separate it from the porridge. Pure barley porridge from big stores in big cities. Take porridge.
Now soak the barley porridge in a cup of water for an hour. Then put it in a saucepan, add two cups of water and a pinch and cook on low heat and keep stirring with a spoon so that the porridge does not stick to the bottom of the pot. When it becomes like a paste, take it off. This porridge is usually prepared and kept in the evening or at night.
In the morning for breakfast, add sugar and some milk to taste. Now it is definitely optional to add honey and some dates to sweeten the rest of the dishes. Wherever you see the recipe of Talbeena, you will find a way to cook it in milk by adding dates and honey, after reading which 90% of the people give up the intention of eating Talbeena for breakfast.
The main ingredient in the talbeena is the same food. So just make and use Joka porridge in this simple way.
Visit My Youtube Channel.