Treatment of Dryness ( خشکی کا علاج )
لیموں، لہسن، سوڈے سے خشکی کا علاج ممکن
بالوں کی جڑوں میں پائی جانے والی خشکی مرد و خواتین دونوں میں عام ہے، اس کا کوئی موسم نہیں ہوتا بلکہ یہ ایک جِلدی بیماری کی طرح حملہ آور ہوتی ہے جس کا علاج نہایت ضروری ہوتا ہے ورنہ شرمندگی کا باعث بننے والی یہ خشکی بالوں کو بھی لے اُڑتی ہے۔
خشکی کو عام زبان میں سکری بھی کہا جاتا ہے، جِلدی ماہرین کی جانب سے خشکی بننے کی سب سے بڑی وجہ شیمپو کا زیادہ استعمال، شیمپو میں پائے جانے والے کیمیکلز، ذہنی دباؤ اور ہر وقت سر کو ڈھانپ کر رکھنے کو قرار دیا جاتا ہے، بالوں کو صاف نہ رکھنے سے بھی سر میں خُشکی کی افزائش ہوتی ہے۔
بالوں میں خُشکی کی سب سے عام علامت خارش اور بالوں میں سفید فنگس کا پایا جانا ہے، بعض اوقات یہ فنگس جَھڑ کر کپڑوں پر بھی گرنے لگتا ہے یا کنگھی کرنے کی صورت میں سر سے اُکھڑتا ہے۔
خشکی کے خاتمے کے لیے مہنگے شیمپو، ٹانک اور بیوٹی پروڈکٹس سے علاج کرنے کے بجائے کچن کا رُخ کرنا زیادہ موزوں علاج ثابت ہوتا ہے۔
خشکی کو دور کرنے کے لیے گھر ہی میں موجود مندرجہ ذیل بتائی گئی اشیاء کا استعمال بلا جھجک کیا جا سکتا ہے۔
ماہرین کے مطابق پیاز میں اینٹی فنگل خصوصیات پائی جاتی ہیں جو سر کی خُشکی جیسے فنگس کو ختم کرتی ہیں۔
پیاز کے استعمال کے لیے سب سے پہلے پیاز کا رس نکال لیں اور پھر اُس رس کو سر کے اُس حصے پر لگالیں جہاں خُشکی اور فنگس کے ذرات موجود ہیں، اِس نسخے سے جلد ہی خُشکی سے نجات مِل جائے گی۔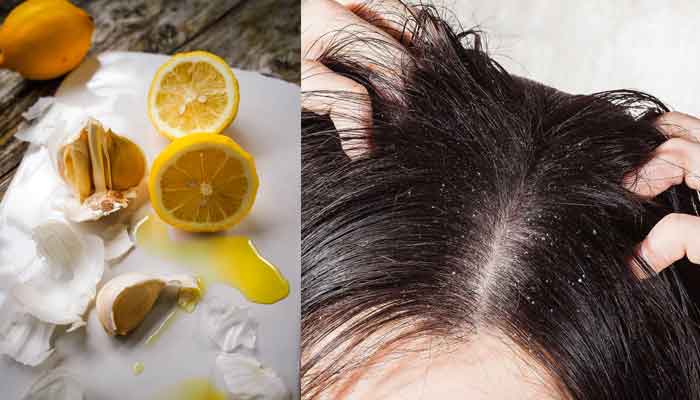 Treatment of Dryness ( خشکی کا علاج )
Lemons, garlic, soda can cure dryness
Dandruff found in the hair follicles is common in both men and women, it has no season, but it attacks like a skin disease that needs to be treated, otherwise, it can cause embarrassment to dry hair. Also carries.
Dryness is also commonly referred to as dryness. Dermatologists say that the most common causes of dandruff are excessive use of shampoos, chemicals found in shampoos, stress, and keeping the head covered at all times. , Not keeping the hair clean also increases the dryness of the scalp.
The most common symptom of dry hair is itching and the presence of white fungus in the hair.
Instead of resorting to expensive shampoos, tonics, and beauty products to get rid of dryness, going to the kitchen is a more appropriate treatment.
Feel free to use the following items at home to get rid of dryness.
According to experts, onions have anti-fungal properties that eliminate fungus such as the dry scalp.
To use onions, first, extract the onion juice and then apply the juice on the part of the head where the particles of dryness and fungus are present. This prescription will soon get rid of dryness.
Visit My Youtube Channel.